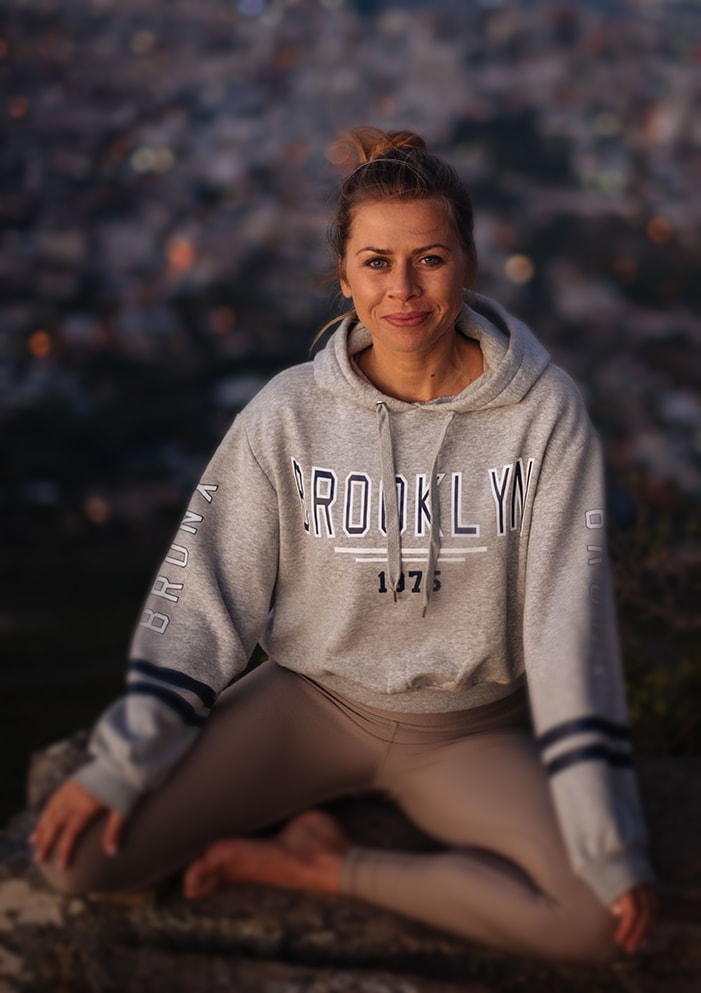 ---
"What happens when people open their hearts? "They get better."
~ Haruki Murakami
---
Hi, my name is Lydia and it's so nice to have you here visiting my website.
Originally from Berlin, but now based in The Hague I am calling the world my home as traveling is my biggest passion next to Yoga, Sound, and Reiki - or simply spirituality and energy work, let's put it this way. 🙂
When I rolled out my mat for my very first yoga class, it was immediately clear: I wanted more of it!
Since then I practice yoga and meditation every day, which has become the basis for my everyday life and well-being. After a few years of continuous and intensive yoga practice, I completed a Yoga Alliance certified yoga teacher training, which made me an even more passionate yoga student and ultimately qualified me as a yoga teacher.
Shortly after my training, I spent a few months in Cape Town and got to know the South African multifaceted yoga community with it's exceptional teachers, with whom I engaged intensively and from whom I was also able to learn a lot following my training.
Afterwards I set off for India to discover the traditional origins of yoga, to get to know the country and its people and, last but not least, to take part in an extended Advanced Yoga Alliance certified Yoga Teacher Training.
"As we let our light shine, we unconsciously give other people permission to do the same. As we are liberated from our own fear, our presence actually liberates others."
~ Marianne Williamson
---
Due to a shoulder injury and thus enforced break from my active yoga practice, I completed a Restorative Yoga Teacher Training, which gave me so much more than just theory and practice on my way - rather, this was a journey to myself and more self-love. For me, deep conscious rest is the key to unconditional self-love.
To know more about restorative yoga, click here.
The Power of sound healing even deepened that delightful feeling of self-love and when I experienced my very first Alchemy Crystal Sound Healing, same story: I wanted more of it!
Some Sound Baths later I eventually did my first Alchemy Crystal Sound Training and my first Alchemy Crystal Singing Bowls found me. Since then, I have combined yoga with sound, did an advanced Sound Training and simply feel that sharing healing Sounds is my ultimate true nature.
I am sharing the sound of precious Alchemy Crystal Singing Bowls from Crystal Tones.
To know more about Sound Healing and Alchemy Crystal Singing Bowls, click here.
Last but surely not least Reiki came along. I have always been in touch with energy work as my mom practices healing hands and different kind of energy work since I was a kid. Therefor I always saw myself more in the role of the receiver but after completing the first degree of the traditional Usui Reiki System I feel ready to share the power of Reiki and am waiting for being ready to be initiated for the second degree.
To know more about Reiki, click here.
To me, Yoga means to always open up new insights and to never stop learning.
To me, pure sound and frequency have the power to guide us to our deeper inner peace within - our true nature.
To me, Reiki means pure love, compassion, gratitude and healing.
As I am inspired by the Japanese concept of Wabi Sabi which focuses on finding beauty within the imperfections of life and accepting the natural cycle of growth and decay, I invite everybody to join my sessions as they are - completely pure and already perfect.
I would be honored to share my love for my calling with you.
Lots of Love,
Lydia